hey! guys, i mean, girls!!!(i dont know..)
Yes, I'm in Hawaii now.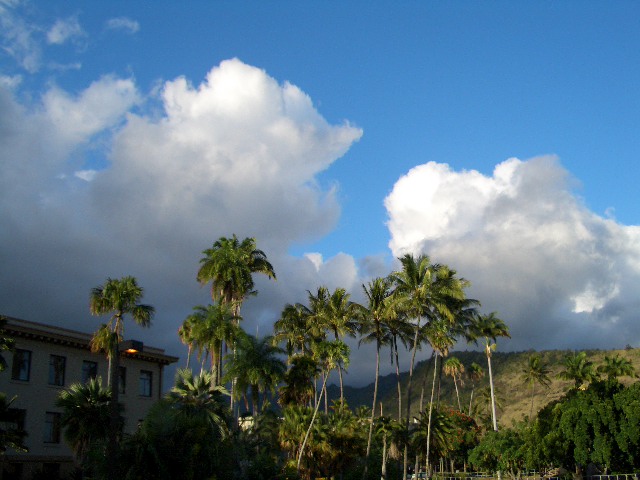 The sky looks GREAT here, I feel like I'm really close to the sky.
It often rains here. How often? well maybe once a day.
It is kind of the passing rain, so I don't worry about it too much.
I am doing ok with summer classes, which are religion class and theatre class, and especailly the prof. of religion class is AWESOME!!! He's just HILA~~~~~RIOUS!!!! His ancesotor is Japanese so he looks like Japanese, but actually he can't speak Japanese at all.
Of course, the religin class is interesting because , u know,, I am kind of a non religion person who don't believe the particular God. Also I have thought religion is not my thing because I thought religion was a not logical thing.
HOWEVER, the religion is really theoretical stuff, and the ideas of religion is sooo unique so Im enjoying this class very much!!! shooot!! I should have taken it last semseter!! with manami.
Yeah, a theatre class is also great of fun!!!
It is lots of exercise class(!!!) as well as reading and writing(....)
I went to watch the Shaekespeare play yesterday to write requirement papers, but actually I could not understand most of them!!
So, I have to start the reseach about Shakespeare this weekend. hahahha FUN!!!
What are u doing recently?
How is ur summer going in Kansai???
Thank u for reading!!!